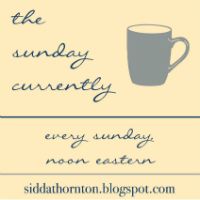 Happy Sunday everyone! I am linking up for the first time with Lauren for Sunday Currently. Click HERE if you're interested in joining along!
This week has been a really lonely one. I've been home in my bed when I'm not in school or working out. Just getting a lot of thinking done while relaxing on my own. No complaint here!
R E A D I N G:
Pride and Prejudice
by Jane Austin. I am
absolutely
in love with the story thus far. I haven't watched the movie either, so I am excited to
watch the movie after I finish the book. Which I'm expecting in two weeks or so. I'm only on chapter 10, so I have a long way to go!
W R I T I N G:
textbook notes for all the readings of my classes. Don't want to be behind by a
lot of chapters by the time the test/midterm comes up!
L I S T E N I N G:

the movie Riddick. Technically I'm watching the movie, but currently that what I'm listening to at the same time!
T H I N K I N G:

about what I'm going to do with the rest of my Sunday.
S M E L L I N G:

the smell of my clean room.
W I S H I N G:

some good news.
H O P I N G:

for a positive outcome for Jay and I.
W E A R I N G:

my pink UofT sweater, and blue sweats.
L O V I N G:
the late 1700s and the early 1800s; just the romance and the commitment
men and women had for one another is really beautiful to experience through my readings of Jane Austins' novel!
W A N T I N G:

to be happier this week.
N E E D I N G:

a nice cup of tea.
F E E L I N G:

alone and lonely.
C L I C K I N G:

furiously on the save button in hopes of saving my blog post since my wifi is currently
deciding not to work with me today.