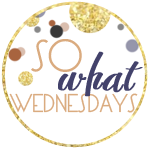 I can't believe it's Wednesday already! This cold week is going by really fast! Today I am linking up with Shannon for So What Wednesday!
This week I'm saying so what if:
I feel great for killing my midterm yesterday that I decided to not do anything productive last night!
I slept in for 2 extra hours this morning!
I felt very lonely this week; sorry to those I've been bothering because I was feeling so lonely!
I'm addicting to the idea of working out, but cannot find the energy to do so
I get annoyed at people very easily lately
I keep forgetting to take my pills when I'm suppose to :/
I just want to have fun this week
I'm super excited for reading week next week; I'm so excited to just sleep
I am excited to start working near home!
I am hungry this very moment as I am writing this lovely post
it is Wednesday, I want it to be Friday please!
What are some of your So What's for this week! Click HERE to link up and share your SO WHATS!