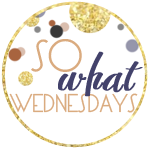 I can't believe it's Wednesday already! This cold week is going by really fast! Today I am linking up with Shannon for So What Wednesday!
This week I'm saying so what if:
Monday was the best day I've had in weeks! It was good to smile.
I've been looking like a marshmallow at school. It's cold outside, and I really do not want to risk get sick.. or worst, frost bite!
That I was 45 minutes late to class this morning... it's snowing like crazy outside
I've watched Sense and Sensibility for the third time this week... I just love the story and I am just in love with the movie!
I haven't done anything productive for school this week...
I've been feeling sad and lonely for the past 2 weeks
I decided to cut my hair, I wanted a new change and people shouldn't get mad over it. It was my decision
my stomach growls in class, I'm on this new diet that my body isn't used to... so just allow me
What are some of your So What's for this week! Click HERE to link up and share your SO WHATS!