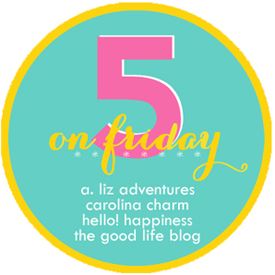 Yes! Friday is finally here! It has definitely been an entire month not participating in on today's linkup! But it's alright, we all forget things here and there. So... let's get to the good stuff!
Today I'm linking up with April, Darci, Natasha and Christina to share of my favourites from this week for Five on Friday today!
--------------------------------------------------
[ONE]
First off I wanna talk about the weekend. Boy was that a fun way to end off my reading week! Jay and I had a blast, and we went out and drank our hearts outs. It was crazy and so much fun to just let be worried-free. This isn't an every weekend thing, no way! That's why Jay ensured that I had fun this one time I go all out. And I have absolutely no regrets for that entire night until the morning of the next day.
[TWO]
If you have yet to realize by now, I am a huge lover of chicken and pasta!!! So every time Jay and I go out for our weekly dates, I
usually
.... naw... I mean I
always
pretty much order Chicken Parmesan. I think I am addicted to trying every restaurants' Chicken Parmesan and compare which one is better. I do the same thing with the fries! The fries are too good. So far, my favourite fries are from Kelsey's and my favourite Chicken Parmesan is from East Side Mario!
[THREE]
Jay finally got a new car and it is now officially on his driveway. IF there are any car lovers out here in the blogging world, I'm sorry if I use any wrong terms here. He bought himself a Honda EF four door. He currently has be b20 vtec engine in the shop getting looked at and he is excited to finish off his built! If I understand what he is exactly doing with his car, I will post about his project on here.. but don't expect a lot... I actually have no idea what is going on.
[FOUR]
As you all know, I've been attempting to keep a regular routine of working out lately. So I officially wrote down a list of what to do for each day, to make sure I keep track of what my goals really are. First I am going to slim down just a little, and then just shape and tone the rest of my body! Summer is coming up, and if I am planning on going to live at a cabin on the beach with friends, I need to look at my summer's best! Here is a picture so far. My legs have definitely gotten slimmer, and notice my arms?? Wohoo! I'm starting to get defining muscle lines!
[FIVE]
Lastly, my love for creating typography is getting stronger and stronger. It is honestly such a great distraction from the stress and worry I have. And most importantly, I find it a great way to express my feelings and a pretty way. Here is my favourite design that I was inspired to create this week.
Those are my five favourites of the week! Have a great weekend, xo!