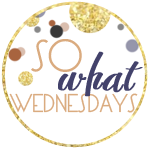 I can't believe it's Wednesday already! This cold week is going by really fast! Today I am linking up with
Shannon
for So What Wednesday!
This week I'm saying so what if:
I've been looking like a marshmallow at school. It's cold outside, and I really do not want to risk get sick.. or worst, frost bite!
I was so happy on Monday. It's been a long time coming, and I deserve to smile and spoil myself every so often.
I've been sleeping in 30 extra minute still. It's hard going to bed early lately...
I am just wishing to experience one normal day - stress free and drama free
I haven't made my decision yet about going back to the squadron and returning as an officer. I literally just retired from the cadet program and need my break before joining back right away.
I've been ignoring everyone's phone calls and text messages. I just need to be alone as I am clearly going through rough times right now.
there's an anthro quiz tomorrow and I'm too lazy to study for it.
I have no idea what I am going to do with my life. I am just a confused blogging student.
I am tired and just exhausted with everything
What are some of your So What's for this week! Click HERE to link up and share your SO WHATS!